File:Figure2 Arai Model 1.png
From CNBH Acoustic Scale Wiki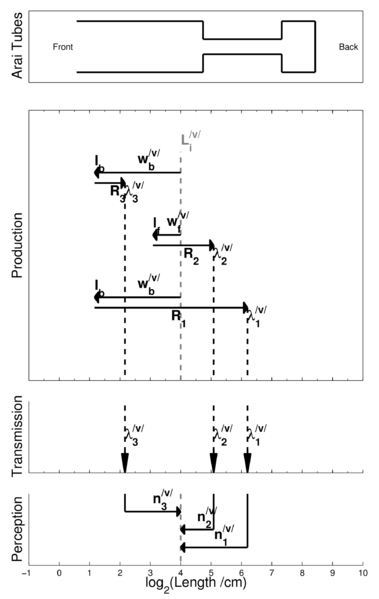 Size of this preview: 379 × 599 pixels
Full resolution
‎ (1,826 × 2,887 pixels, file size: 132 KB, MIME type: image/png)
Figure 2: An overview of vowel communication implied by the three-tube model. Top panel: the role of the resonators in producing the sound. Middle panel: the set of wavelengths that represent what is transmitted from the speaker to the listener. Bottom panel: the decoding of the vowel in the perceptual system of the listener. The abscissa for all three panels is length in logarithmic units.

Generated from Papers/RoleOfVTLinSpComm/Figures/Formants/formants.m svn revision 584 5 Jun 2008
PNG Version created from left panel of generated PDF
File history
Click on a date/time to view the file as it appeared at that time.
File links